The Brazos River
In January 1822, a group of settlers on board the ship "The Lively" landed at the mouth of the Brazos River. These settlers, joined by a few others, then traveled inland and settled along the Brazos River in what would become Fort Bend County. William Little built on the west bank of the river a one room log cabin called a "fort" by the settlers. The cabin eventually became known as Fort Bend. Many of these early settlers and others who joined them made up the 'Old 300', the first families brought to Texas by Stephen F. Austin, one of the first empresarios to receive land grants from the Mexican government to start a colony in Texas.
Many citizens of this new colony fought in the Texas Revolution in 1836. Santa Anna and his armies marched through this area on their way to the final battle at San Jacinto. In front of the army, citizens of the county hid or fled east to escape the Mexicans in what is called the Runaway Scrape. After the Texians won their independence, those who fled east returned home and the colony prospered.
Richmond, the county seat, was founded in 1837 by Robert Eden Handy and William Lusk near the site where Fort Bend was constructed and officially created the same year. In the ensuing twenty four years, the county continued to prosper. Settlers found it a great place to graze cattle, grow cotton, sugar and rice, and other crops. The first railroad constructed was the Buffalo Bayou, Brazos and Colorado Railroad in 1853. Several more railroads would crisscross the county by the turn of the century.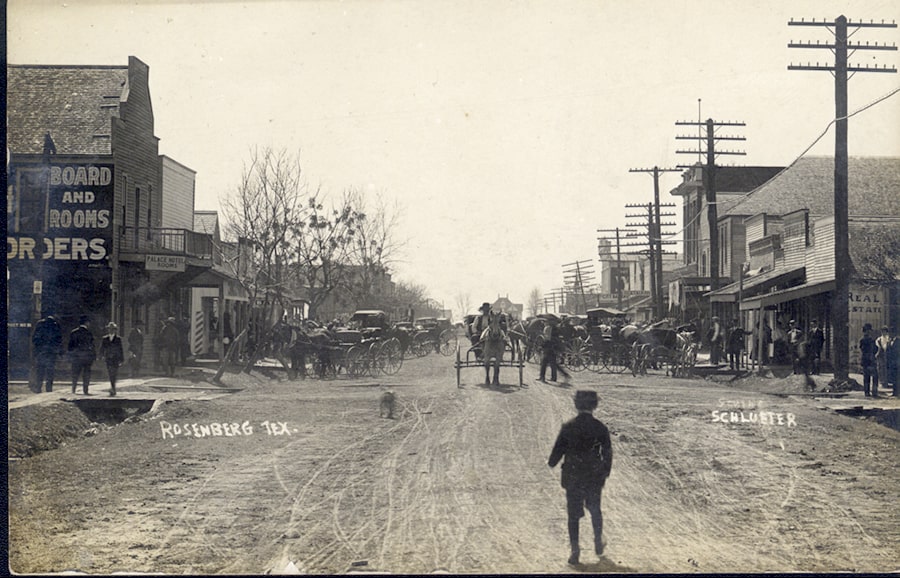 In 1861, the county overwhelmingly voted for secession and passionately supported the Confederate cause. Many men went off to war, most famously Terry's Texas Rangers. Rosenberg was established in 1883 at the junction of the Gulf, Colorado & Santa Fe and Galveston, Harrisburg & San Antonio Railroads. It was named for Henry Rosenberg, the president of the G, C & SF Railway Company.
Ed Cunningham bought the Sugar Land Plantation in 1886. This plantation was started in 1828 as Oakland Plantation by Samuel May Williams. Sugar cane was continually grown and/or processed on that land for over 160 years. Ed Cunningham expanded the sugar mill into a refinery and, in 1907, WT Eldridge and IH Kempner bought it and started the Imperial Sugar Company. The company town of Sugar Land was laid out soon after.
Oil was discovered at Blue Ridge in 1919 and at Big Creek in 1922. Several other fields soon followed. This started an oil boom in Fort Bend County that resulted in the development of other mineral industries. Mineral and oil producing fields can now be found throughout the county.